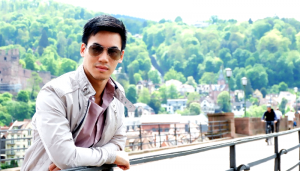 ---
It wasn't my intention to study a master degree
As for myself, I applied for KIMBA 2 years ago. I was 28 years old at the time of my first academic year here. During that time, I've just got a new job. Therefore, it wasn't really my intention to study a master degree when I had to start my new career at the same time. Thanks to my mother who kept pushing me to take a master degree course, or else I would have been the same person I was until today.
It didn't take me 2 whole years to realize that it wasn't just a degree I've got from KIMBA, there was just really so much more. My first impression here was the friendship from my whole batch which I valued. I didn't expect to make so many friends when I first arrived here, and even now that I've graduated, this is something that has really bonded me with the KIMBA family.
Apart from that, I also got to utilize my skills and knowledge with my full potential in this course which I've never realized I could have done it before. The first subject here I studied was finance, I did suffered a little since I didn't have any mathematic foundation. But I was proud of myself that I got through it including all other difficult subjects as well. The whole coursework wasn't easy, but it has given me such a great knowledge which has really opened my vision of how business works.
I worked hard in this degree and it did pay off. I've graduated on time and I was very proud of myself in that. My experiences here in KIMBA cannot really be described in words. There were so many wonderful things that happened to me during my 2 academic years. Not only had my pride that I had here, but I also felt very overwhelmed to get to be a part of KIMBA. It truly was the knowledge, friendship and life experiences that I cannot get it from elsewhere. I cannot be thankful enough to my teachers and all of the staffs who have helped me until I've graduated.
So all I can say is that, Big thanks to KIMBA for making me who I am today.
Pin  Montreewasuwat
#Batch 18