Around Kasetsart University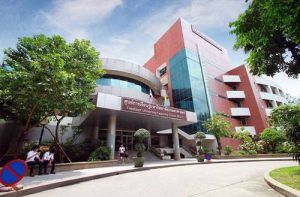 The library acquires and collects information on all disciplines. It provides online full text and abstract electronic databases in the international literature in agriculture, forestry, educational-related literature, computing literature, business, management, economics, computer science, engineering, information science, technology and allied disciplines.
Library also offer wireless Internet system to connect for your laptop that you can use your laptop or you can use computer in library to do research on the Web, read your e-mail, search information as well.
Website : http://lib.ku.ac.th/web/index.php/en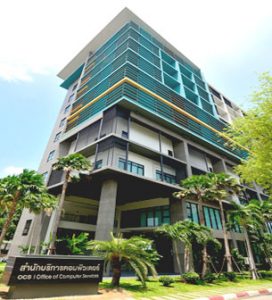 The Office of Computer Services (OCS) provides computer facilities including, general purpose computers, High Performance Computings (HPC), and various Internet servers open to students and employees.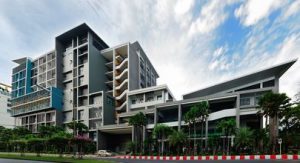 OCS provides every student and every employee with a NontriNet Account. A username and password identify a user to the NontriNet campus network and enable user to use a variety of resources and services such as access to E-mail, software dowloads, wireless LAN (KUWIN), coursewares supported E-learning (Max@Learn), personal webpages, UNIX server (PIRUN), and others.
Website : http://lib.ku.ac.th/web/index.php/en
Post Office
KU Post Office provides mail, remittance, and international phone call services. Open from 8:30 AM to 4:30 PM on weekdays except for official holidays.
Campus Transportation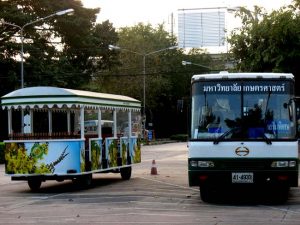 Kasetsart University provides campus transportation for servicing all personal and students in reasonable price, which is 2 baht all routes. At present, there are four service routes.
Health Insurance
There are two types of insurance available at Kasetsart University: one through the University and the other through the International Studies Center (ISC).
ISC offers yearly health insurance for international students cost approximately US$ 200. This covers accidents, emergencies, hospital admission, and general health care, including 30 consultations with a doctor per year. For more information, please contact: Bangkhen Campus Student Health Fund, Student Affairs Division
Bank
Bank of Ayudhya Public Co., Ltd, Kasetsart University Branch is locating on the 1st floor of the KIMBA Building.
Office hours : 08:00 a.m. – 3.30 p.m. Monday through Friday Closed on weekends and holidays
At all branches of the Bangkok Bank, SWIFT/Telex services are available to transfer your funds to international destinations.
Bank drafts are a cost effective way to send money abroad to friends and family overseas, or to make overseas purchases.
Dormitory
The International Dormitory is located on the 4th and 5th floors of the International Studies Center Building.Contact Office International Studies Center (ISC) 3rd floor International Studies Center Building Tel : (662) 562-0985, 942-8655 Fax : (662) 562-0985